How the Waterfowl Alert Network Works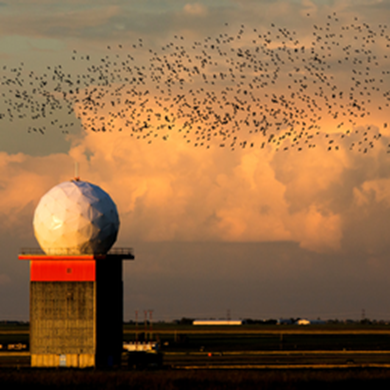 A weather surveillance radar with clouds and a flock of birds in the background.
Waterfowl migrate thousands of miles between wintering and breeding locations and have long been known to be the natural reservoirs for avian influenza viruses, which are associated with high mortality in poultry. During the North American Fall and Winter, millions of waterfowl migrate from the artic, a region where highly-pathogenic influenza potentially crosses continental boundaries during the migration. Many of these migrating waterfowl winter in the relatively warmer climate of the U.S. among other locations where they can find appropriate habitat. Hence, as we enter the fall and winter, it is important to further maximize biosecurity to reduce the possible interface between waterfowl and domestic poultry. Whether you have a million-bird farm or just a few backyard chickens the message is the same: maintain the best operational and physical biosecurity you can.
The Waterfowl Alert Network is a tool that creates daily waterfowl abundance and/or occupancy maps using a combination of Next Generation Weather Radar (NexRAD) modeling and telemetry modeling. What makes this method unique is the ability to make daily waterfowl abundance/occupancy predictions of roosting and feeding of waterfowl.
Applications include:
Agriculture (e.g. commercial poultry, commercial swine and crops)
Recreation (e.g. golf)
Sustainable energy (e.g. solar and wind)
Ecosystem services (e.g. waterfowl habitat)
Our goal is to provide farmers with a tool that notifies them when waterfowl aka "avian influenza reservoirs" are in close proximity to their farms. We hope the notifications will help farmers elevate their biosecurity in a strategic manner, especially during an outbreak of Highly Pathogenic Avian Influenza (HPAI).
For more information about the Waterfowl Alert Network feel free to read the following scientific articles and reach out to us with any questions at info@agrinerds.com :